Staff Corner
Meet Mrs. Rummel!  She has been a building overload aide at Adams for the past five years.  She spends a portion of her day in the office as well answering phones.
She has five children, a Senior, Junior, Sophomore, Freshman, and 6th grader!  In her free time she enjoys time with family, reading, cooking, and watching her kids play sports.
Adams Gear Online Store
We are pleased to announce that we have an online store open for Adams gear.  If you are interested, please follow the link below.  We have a few shirts on site that can be purchased for $10.00 (cash only).  Drop by the office to check them out!
Phone Calls
Please know that anytime you call the office, teachers and administration may not be available to speak to you immediately.  It is important that we do not interrupt the instruction occurring in classes or disrupt meetings occurring.  Although we understand your need is extremely important, please be patient and know that our days are filled with staff working diligently to ensure our students are thriving in a safe, effective learning environment.
Our secretary will gladly take a detailed message for any staff member and ensure he or she receives it.  Your call will be returned as soon as possible in a 24 hour time frame, unless of course an emergency situation requires immediate attention.
Fundraising Opportunity
Fundraiser materials were sent home on Friday.  If you are able to participate, we encourage you to!  All money that we raise benefits our students directly.  We use the funds raised to purchase classroom materials, rewards for students, and more!  See below for additional information.
WWCSD APP for IPhone and Android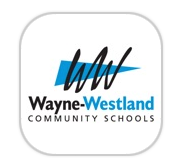 We want to provide information to our students and families in multiple, useful ways.  We have added an App for that!  The WWCS App gives you quick one and two tap access to your most searched for and desired content!  Use the links below to download it for your iPhone and Android devices today.  Check out the features below.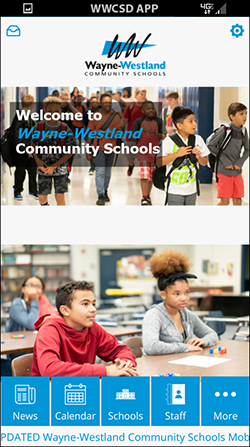 News – Quick access to the @WWCSD Facebook feed where we post daily district information.
Calendar – Subscribe to calendars for individual schools, the District or our Board of Education.
Schools – Direct links to your school website.
Staff – Use our Staff Directory to search the names of staff for their direct email link.
More… – 13 more features for you to explore.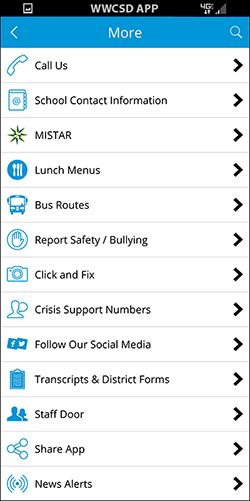 Call Us – Instant Tap to Call phone numbers for all WWCS Schools.
School Contact Information – Beyond phone calls, you can see addresses and tap to allow for GPS Directions to your desired school.
MISTAR – Quickly access the ParentConnection or StudentConnection portals.
Lunch Menus – Quick links to the lunch menus for all schools.
Bus Routes – While Bus Routes are posted via MISTAR, we provide information about the Here Comes The Bus App.
Report Safety / Bullying – Use this feature to quickly report your safety and bullying concerns. It can be used anonymously.
Click and Fix – Select your location, describe the problem, take a photo of the issue and Submit. We will take care of the rest!
Crisis Support Numbers – When you need a place to turn to talk, we have listed some helpful resources for your needs.
Follow Our Social Media – A handy list of all Social Media feeds from our schools. Find a school to follow!
Transcripts & District Forms – Some of the most searched for district forms all in one location.
Staff Door – Employee access to staff resources.
Share App – Easily share the app with friends and family so everyone can stay up to date with WWCS.
News Alerts – A quick link to the District News Alerts.
Download the App
Next Early Release Day
February 4th will be the next Early Release Day.  Students will be released from school at 1:50 pm.  Please make necessary arrangements for your child.  Our transportation department will follow their normal routes, beginning at 1:50 pm.  If you pick your child up from school, please be mindful of our early release time if you need to make adjustments to your schedule.  Bright Futures will begin at 1:50 pm for those that attend.
Tutoring @ Jefferson Barnes
We will be partnering with Jefferson Barnes to provide after school tutoring for our students at NO COST.  Tutoring is available Monday-Thursday from 3:00 PM – 5:00 PM.  Transportation is available from Adams to Jefferson Barnes, and then back home.  In addition to tutoring, 3D printing and Robotics classes are available.  If you are interested in this service, please register using the link below.  Once you register, please call the school and let us know so we can send home a transportation permission slip, or download the form and return it to school.
Transportation Permission Slip
MIDDLE SCHOOL TRANSITION
Transition Timeline – Click Here
Upcoming Events
2/4 – Early Release @ 1:50 pm
2/17 – 2/21 – Mid-Winter Break